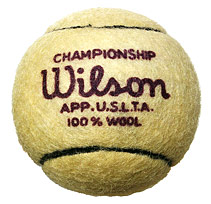 In 1941 Japan bombed Pearl Harbor, bringing the United States into World War II.
Japan seized control of much of Southeast Asia, overrunning the plantations in the Malay Peninsula and East Indies that supplied America with nearly ninety percent of its heavy demand for rubber. Wartime rubber priorities were announced that put a quick end to the production on new tennis balls. Fearstricken tennis players devoured retail stocks of balls in one of the greatest buying sprees of the war. This fear of an early ball shortage was exaggerated. Manufacturers had large inventories on hand and were busily researching ways of creating substitutes that would need no crude rubber. Thus was born the "Victory" ball made with reclaimed rubber.
The Victory ball differed from the standard ball in that it had black seams instead of white, was inflated by means of a chemical pill, was slightly less lively, and cost about 25% more. Another casualty of the war was the metal tennis can. Metal cans were replaced with cardboard tubes. Sometimes manufacturers used metal cans that they already had in stock, but placed a paper label over the can that read something like this: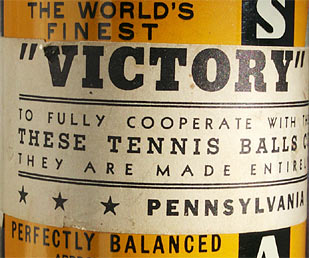 "VICTORY" TENNIS BALLS
To fully cooperate with the rubber conservation program these Tennis Balls contain no crude rubber, they are made entirely of substitute materials..